Opportunity to own a Vinhomes apartment priced from just VND 1 billion
With its newly launched offers, Vinhomes is actively diminishing customers' financial obstacles to owning high-class GS1 apartments at the heart of its world grade majestic Vinhomes Smart City, priced from VND 999 million with just 200 million down payment required. Be ready to capture this opportunity to acquire a Vinhomes apartment priced from just VND 1 billion with details provided below.
Owning a Vinhomes apartment priced from just VND 1 billion
One of the major obstacles that concern home buyers have always been the financial issue, which shows itself clearer than ever in the Covid-19 context where incomes are severely affected. Understanding their challenges, Vinhomes has recently offered an attractive promotion to provide the opportunity to own a Vinhomes apartment priced from just VND 1 billion at the grand Vinhomes Smart City (Nam Tu Liem, Hanoi), which requires an initial cost of just VND 200M.
This outstanding plan is offered exclusively to prospective buyers of the newly rolled out The Miami's GS1 apartment tower. The inspiration behind GS1's design was the One Thousand Museum, a high-rise condominium iconic to the dynamic lifestyle of the City of Miami (US). It features flexible options on apartment size, from the start-outs and bachelor-friendly 25m2 studios to spacious 95m2 with three-bedroom, desirable for families of 4 -5 members. To shorten the time for finishing touches after handover, the developer, Vinhomes has furnished GS1 apartments to a high standard with, among others, glass panels for bathrooms and wood floors throughout the living spaces.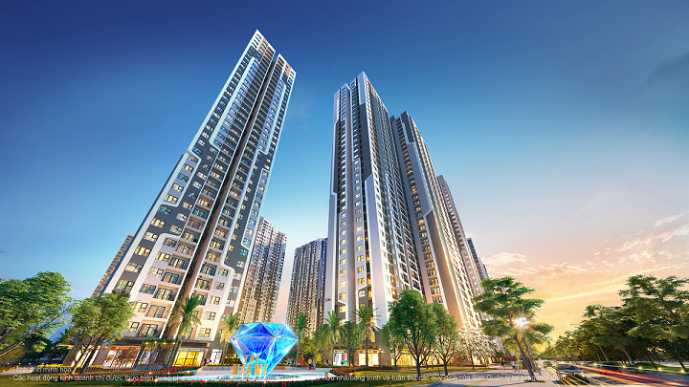 To relieve customers of the initial cost burden, Vinhomes has specially designed supporting loans capped at 80% apartment value with up to 30-month of interest-free periods. With this exceptional sales policy, customers can start with only VND 200 million for a down payment to own an elegant GS1 apartment inside Vinhomes Smart City, the most livable all-in-one megacity west of Hanoi.
To crown all this, Vinhomes offers a 1% discount to customers buying a second unit, and to those who refer new customers. In addition, all customers who buy a VND 1 billion GS1 apartment and above receive an up to 200 million voucher payable when purchase VinFast automobiles.
"Vinhomes has breathed a fresh life into the 1 - 2 billion apartment bracket with such exceptional sales policy, while incessantly raising its standards for quality. This is the much needed opportunity for the customers looking for a place to live, as well as those investing in property since residence prices in the Western Hanoi have been consistently setting new heights," asserted Mr. Huu Tri, a real estate advisor.
Enjoy an American resort lifestyle fully 365 days a year at The Miami GS1 - Vinhomes apartments priced from just VND 1 billion
Standing tall over the city's Entrance No.4, the 39 floor apartment tower of GS1 - The Miami - resides on the most valuable patches of land opening to the Vinhomes Smart City, envisioning a living space of tropical American resort excellencies. No air travel required, the residents at The Miami subdivision are to enjoy to their fullest the fashionable, splendid lifestyle 365 days a year, thanks to its elaborate chain of 25 all-inclusive services.
For citizens seeking physical activities and fitness, the open 1,000m2 swimming pool, the 9-course combined sport compound, and the outdoor gyms right at the inner parkland will prove to be excellent options. On the other hand, those who go out for a meditating, tranquil space might find it anytime strolling the internal walkways while breathing in fresh air under the shades of California palms and date palms, the same plants that characterize Miami beaches.
Exciting, unhurried, and conveniently done are the lively parties, freely arranged by GS1 residents at the BBQ garden on the inner parkland. Furthermore, citizens may utilize a collection of high-end amenities, readily accessible a few steps away from home such as 4-season swimming pools, Japanese gardens, to name a few. bể bơi 4 mùa, vườn Nhật,…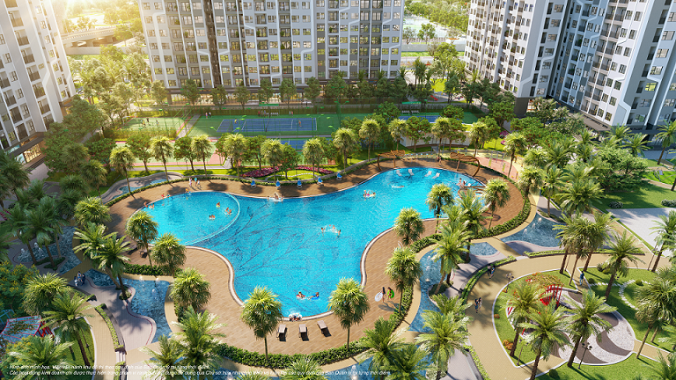 The list of GS1 resident privileges goes on when added with Vinhomes Smart City's exceptional facilities, such as the massive 16.3 ha grounds of Vinhomes Smart City interconnected parks that acts as the giant "green lungs" of Hanoi's new western center. The interconnected parks consist of The Central Park, the sports-themed Sportia Park, and the Japanese Zen Park. These facilities have materialized and are ready to welcome citizens upon receipt of apartments. All are supported by Vingroup's unique complementary ecosystem of virtually limitless services and products, ranging from shopping, entertainment, recreation, and food and drinks at Vincom Mega Mall - Vinhomes Smart City to high quality inter-level education at Vinschool Vinhome Smart City, or international standard healthcare at Vinmec health center.
With a wide range of high quality support services and very affordable costs of acquisition, experts in real estate consider the GS1 apartment tower to be the brewing "hotspot" that attracts home buyers and investors alike to invest and own Vinhomes apartments priced from just VND 1 billion.