Receive 01-month rental free with Welcome Spring promotion at Vinhomes Ocean Park
With prime location at the eastern trade gateway of Hanoi, Vinhomes Ocean Park owns great advantage in terms of traffic infrastructure and series of outstanding utilities and services to attract thousands of residents and customers to choose the project as a place to reside in Hanoi.
On the occasion of welcoming new year, Vinhomes real estate leasing department announce new promotion to welcome 2023 for guests who rent apartments at Vinhomes Ocean Park from 12 months get 1-month rental free:
 Applied for apartments in S2.17, S2.10 and S2.03 Building that are managed by Vinhomes.
 Diversity of furniture options, suitable for individual and family needs, from basic to fully furnished apartment.
Applicable for new lease and extension of existing contract with 12-month length from now to February 28, 2023.
 The promotional value will be divided equally and directly deducted from the monthly rent of public price in 2023
 In case of customers liquidating the contract before original check-out date, in addition to applying penalties for breach of contract, Vinhomes will collect back the used promotional value that guest stayed.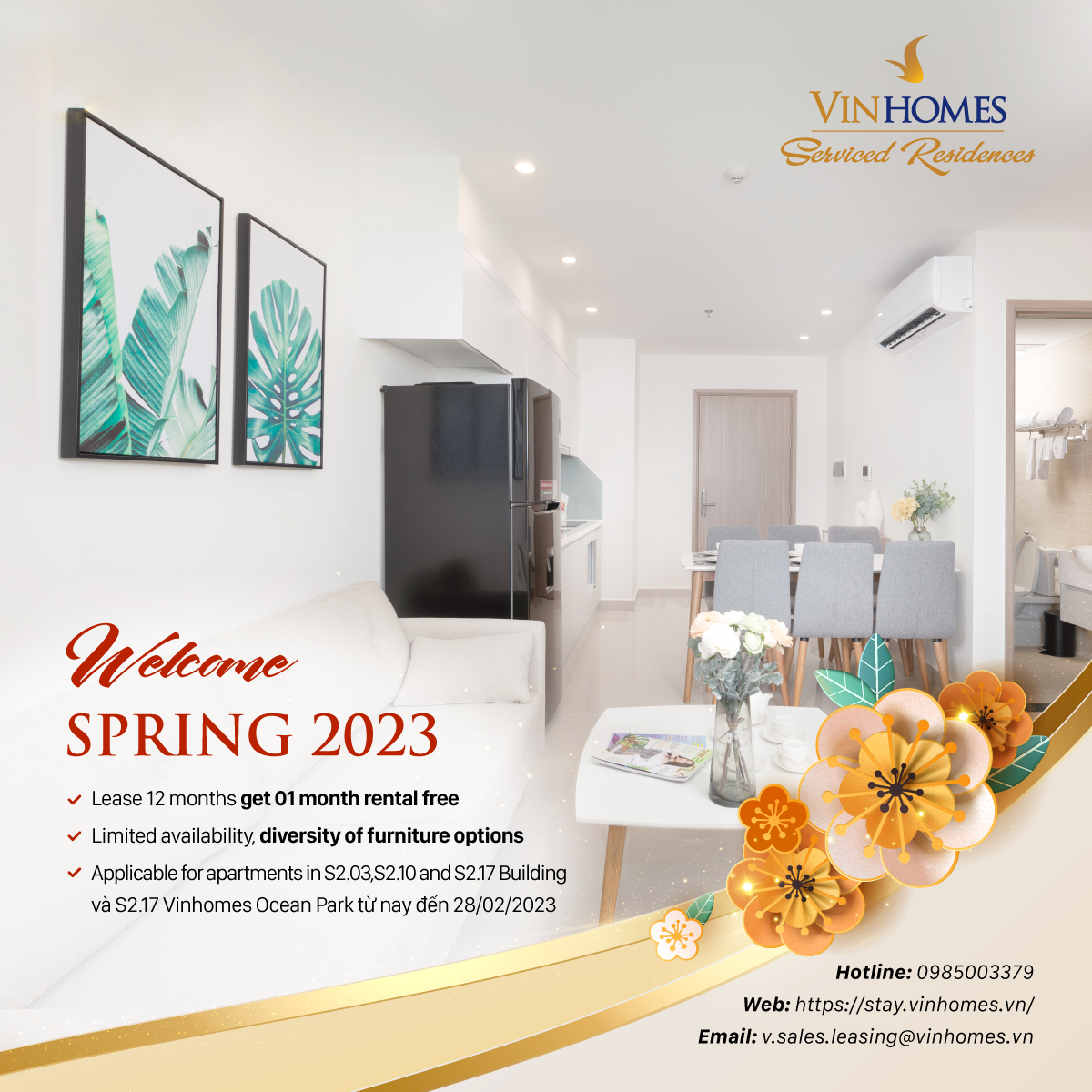 Currently, Vinhomes Ocean Park is named as super project offers and operates series of synchronous utility chains that improve daily living quality of residents such as:
 BBQ park with more than 100 grilling spots, the ideal place for exchanges and entertaining of many residents every holiday or weekend.
 System of 700 fully functional gym machines to meet exercise needs of residents
 Sports park with a variety of subjects...
 Playground for kids
 4-season swimming pool designed with Olympic standards
 Parking zone
 Ocean Park Night Market and a series of events organized to serve the entertainment needs for visitors and residents.

To book an apartment or any assistances that requires about the program, please visit http://stay.vinhomes.vn or contact Vinhomes Real Estate Leasing Department via hotline: 098 500 3379 .