Renting apartment in "Ocean District" only from 5.620.000VND/month with best autumn sales promotion. 
Welcome Autumn, Vinhomes Serviced Residences offers new best autumn sales to all guests who want to rent fully furnished serviced apartments in Vinhomes Ocean Park.
Since its launch, Vinhomes Ocean Park - Gia Lam District - Hanoi has always been in attention with not only residents who choosing a place to settle down but also a place where tenants seek to experience new lifestyle of "White Sand Lake" city. Vinhomes Ocean Park affirms the position when bringing exclusive experiences to thousands of residents and tenants here. Aiming to bring more opportunities to all guest want to experience new trendy life, Vinhomes Serviced Residences offers best sale in 2022 for fully furnished apartments as below:
1. Program details:
a. Applicable guests: All customers who are in need of renting fully furnished apartments in S2.10 and S2.17Buildings to experience new lifestyle in the coastal city of Vinhomes Ocean Park.
b. Application period: From now until October 31, 2022 with rental contract of 6 months or more.
c. Best promotional rate in 2022 for this campaign as follow:
| | | | |
| --- | --- | --- | --- |
| Room type | Area (m2) | Public rate (VND/month) | Promotional rate (VND/month) |
| Studio | 29.7 | 8,090,000 | 5,620,000 |
| 1Bed Deluxe | 47 | 9,360,000 | 6,500,000 |
| 2Bed Standard | 59.1 | 11,530,000 | 8,010,000 |
| 2Bed Superior | 67.7 | 14,620,000 | 10,630,000 |
| 2Bed Deluxe | 69.2 | 16,110,000 | 11,950,000 |
| 3Bed Deluxe | 81.5 | 19,200,000 | 13,330,000 |
Fully furnished apartment including: Wall-mounted furniture, air conditioner, water heater, kitchen cabinet, wardrobe, bed, mattress, curtain, dining table and chairs, sofa, electronic equipment, linen and kitchen amenities.

The above price will be charged an additional surcharge when guests rent apartment with balcony view towards VinUni/nice open view (Studio/1PN: 300,000 VND/month; 2 bedrooms: 400,000 VND/month; 3 bedrooms: 500,000 VND/month, excluding 10% VAT).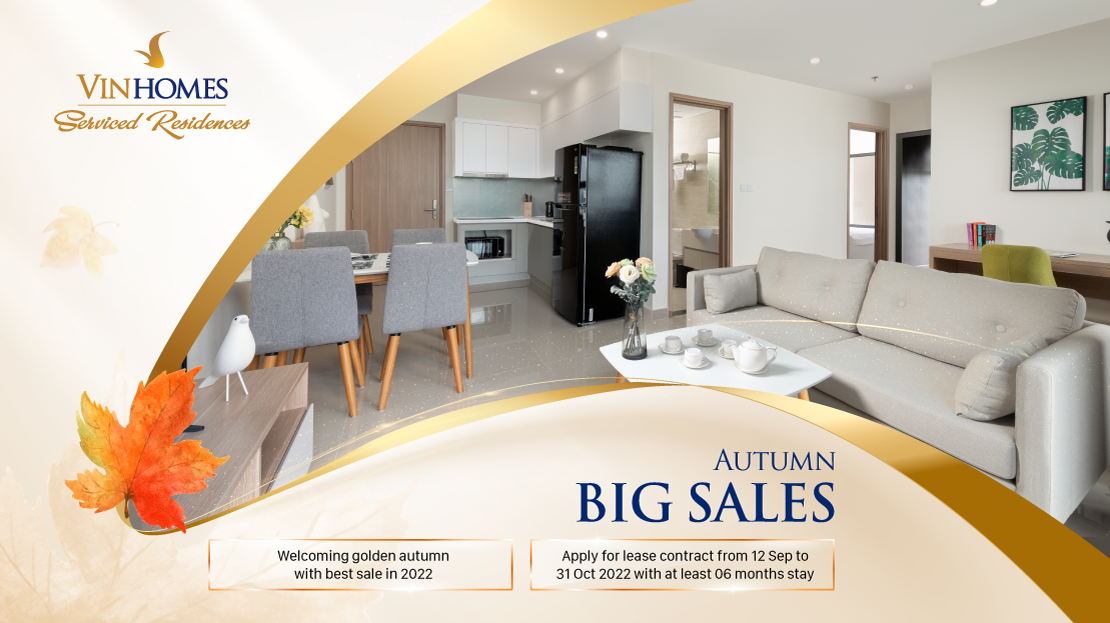 d. Terms and conditions:
Promotional value cannot be converted into other forms (cash, gifts, brokerage fees, etc.). and not applicable in conjunction with other promotions/discounts when using this promotion.

If the Contract is terminated early, in addition to applying penalties for breach of the Contract as specified in Lease Contract, Vinhomes will collect used promotional value of stayed month according to applied package.

Deposit regulation: 2 months with public rate.

Payment method: 1 promotional month/time
2. The privileges when becoming a tenant of Vinhomes Serviced Residences
Choosing Vinhomes Serviced Residence and Vinhomes Ocean Park as your place to live, you will experience new lifestyle with memorable moments as:
Reception and customer care services support customers 24/7.

1st floor gym room at S2.17 building and outdoor gym park complex with hundreds of exercise machines, swimming pool (indoor and outdoor), sports ground, children's playground... locates in the urban.

Complex of convenience stores, mini supermarkets, restaurants and cafes are available in the big urban that could help residents easily to go shopping and experience services quickly.

Multi-layer security system always ensures an absolutely safe living environment.

No need to go outside the project, all essential needs will be met with full facilities from Vinschool internationaleducation, Vincom Mega Mall, Vinmec International Hospital, Vinbus - an electric bus system that boosts the moving need to any places in Hanoi.
For any questions about the program, please contact Vinhomes Serviced Residences with contact below:
- Hotline: 098 500 3379
- Email: [email protected]
Find out more information about serviced apartment of Vinhomes Serviced Residences at: https://stay.vinhomes.vn