The portfolio of Vinhomes projects in Hai Phong
The presence of Vinhomes projects in Hai Phong has quenched the thirst for high-end housing, setting a new living standard for the middle and upper classes in this major Northern city. This article will cover the 2 Vinhomes property projects that capture the full attention of the wealthy in Port City.
Vinhomes Imperia - Notable Vinhomes project in Hai Phong
With a top-notch infrastructure plan and facility systems, Vinhomes Imperia is considered the perfect settlement choice for the elite in Hai Phong, and the place for honorable owners to make their mark.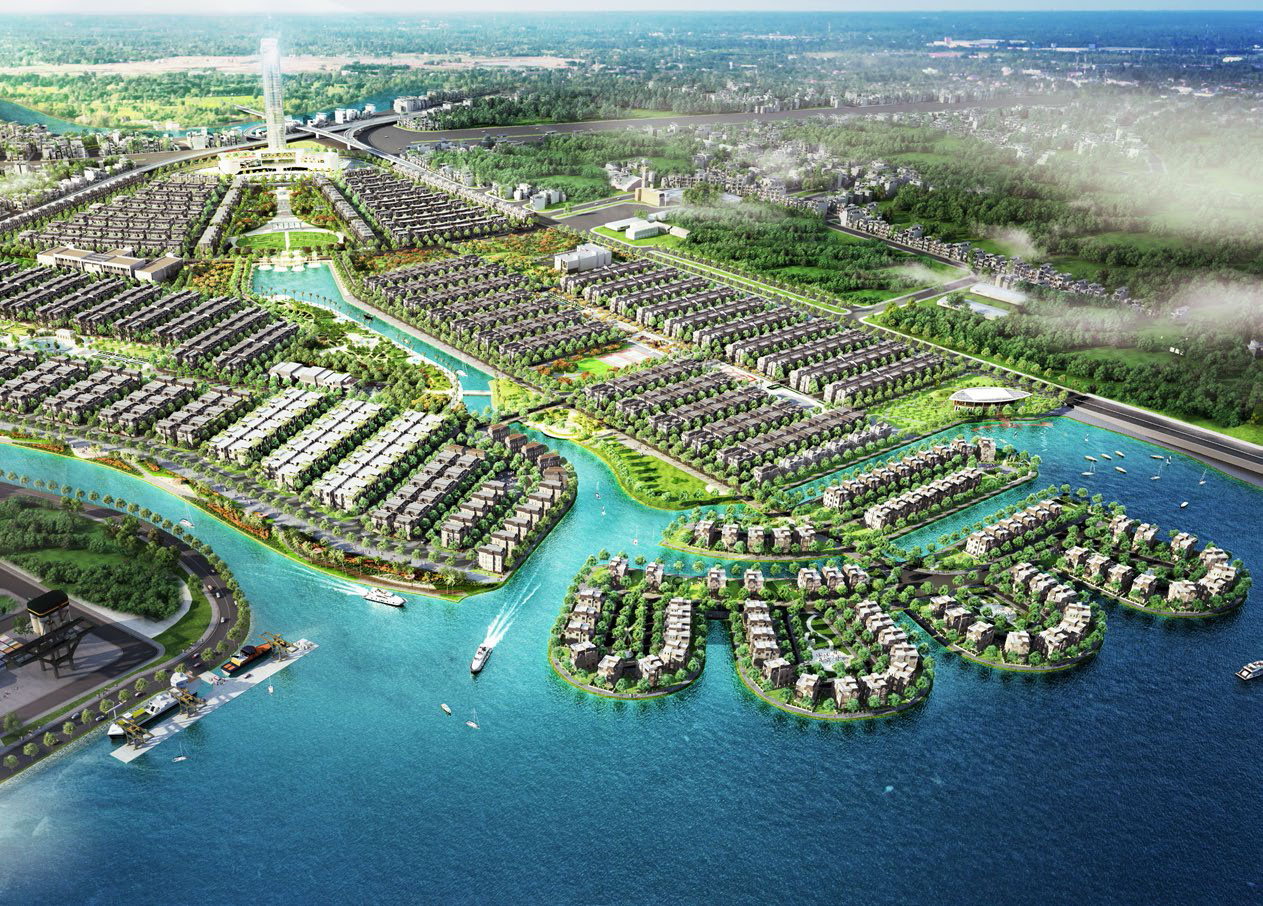 The exceptional location of Vinhomes Imperia
Located in the new center of Hai Phong City, Vinhomes Imperia fully meets the "close-to-river - close-to-road" criterion with one side facing Bach Dang Street and the other facing Cau Binh Street. The project indisputably has all it takes to be the most livable "diamond" land in Hai Phong.
"Close to road" - A connectivity hub
Vinhomes Imperia is located in the eastern gateway of Hai Phong City, directly connecting to many key routes such as 359, Hung Vuong, Bach Dang, Hong Bang, etc., creating an ideal network to connect regions, allowing residents to travel to the city center more conveniently and faster than ever, specifically:
- To the nearby facilities: Hong Bang High School, Metro supermarket are only 10 minutes away
- To Cat Bi Airport: 20 minutes away with a distance of 10 km
- Close to the city center's routes: Hung Vuong, Bach Dang, etc.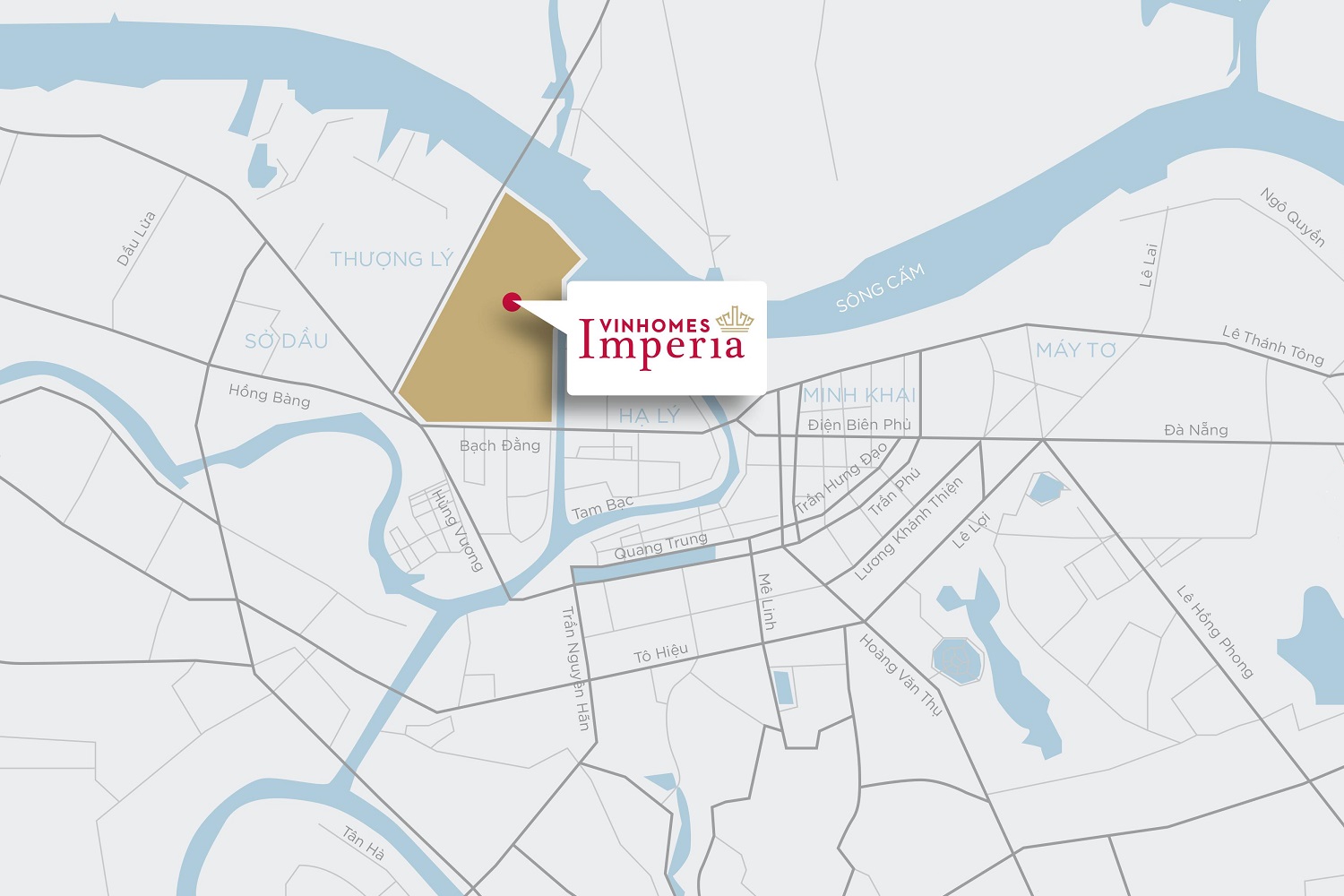 "Close to river" - Fengshui position for a fortune
Located right at the intersection and accretion of two great rivers, i.e., Thuong Ly and Cam, Vinhomes Imperia - one of the Vinhomes projects in Hai Phong has built up green and fresh "oasis", opening a true resort-like living space for its residents. Plus, the unique riverside position gives this place Fengshui values of prosperity, success, and fortune.
Plan of Vinhomes Imperia
With a scale of up to 78.5 hectares, the planning area of Vinhomes Imperia for construction and development consists of over 1,511 low-rise houses, 1 clubhouse building, 1 building combining hotel, Shopping Center, and 3 schools that are alternately distributed in The Manhattan, The Paris, The Venice, and The Monaco zones, specifically:
The Paris zone, which covers an area of 10.1 hectares, includes 535 detached villas, duplex villas and semi-detached villas and is situated along Bach Dang Street and Tam Bac River. Inspired by the romantic capital of France, The Paris vividly and exquisitely reproduces the most distinctive icons of the world-famous "City of Light".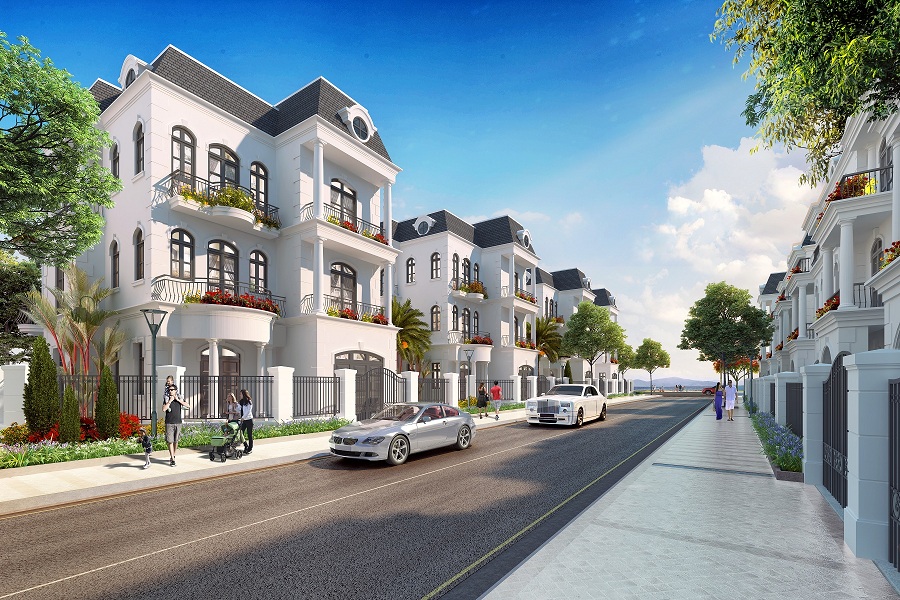 Perched on an area of 6.8 hectares with more than 450 residential units, Venice Vinhomes Imperia offers the elite class an authentic Italian living experience.
With a large green park nearby, this precious zone is regarded as an ideal place for the high-end customer segment who head towards a back-to-nature yet luxurious living space.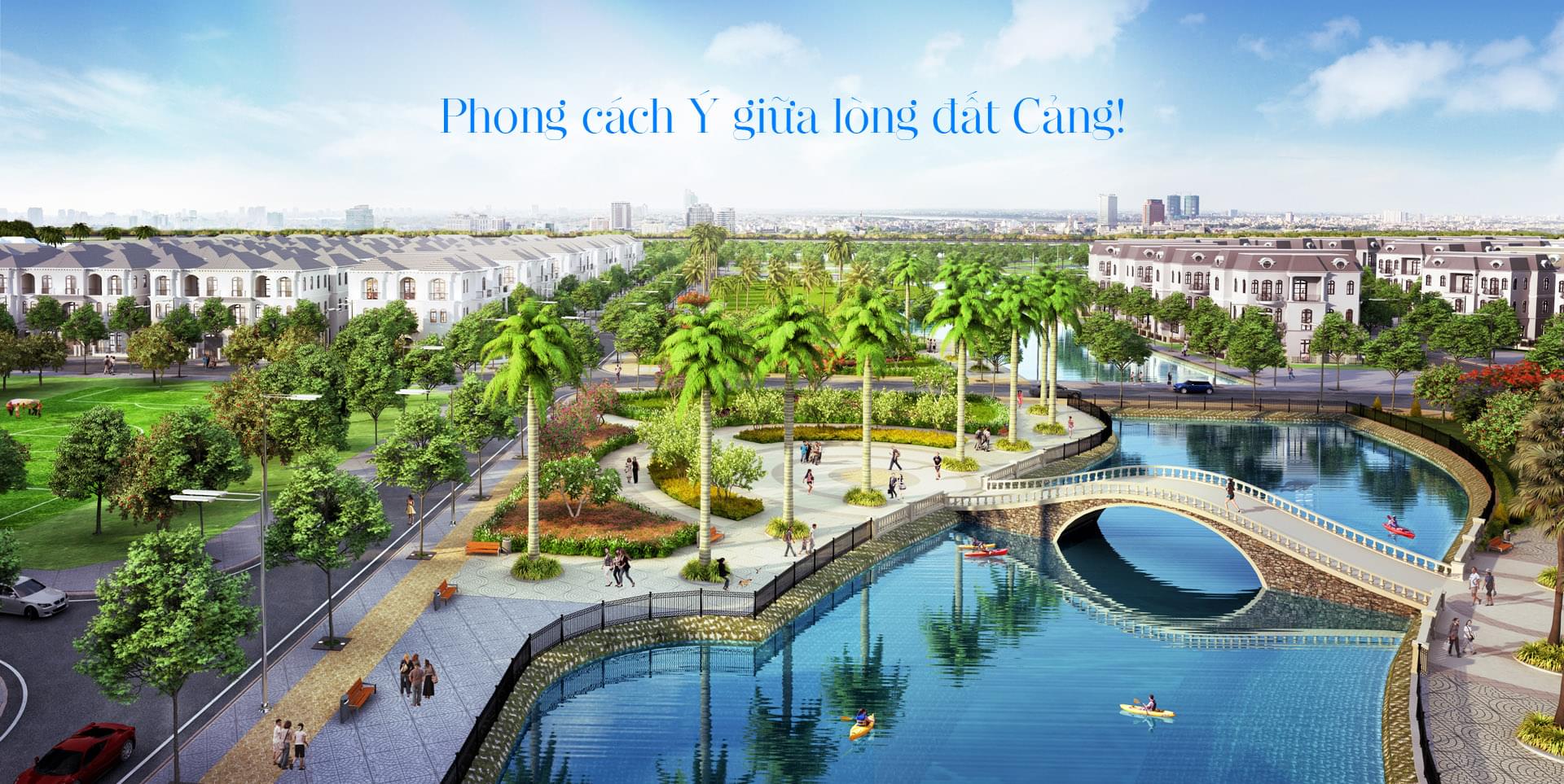 Every category of real estate here is infused with Mediterranean freedom which is reflected in each villa's architecture. This zone's main products are detached villas, duplex villas, and semi-detached villas.

The Manhattan zone - the "little New York" at the center of Hai Phong, occupies a land of 4.1 hectares, adjacent to Vinpearl Hotel Imperia. It is anticipated to become the most hustled area of the Port City.

The special and modern American architectural design of The Manhattan offers a vibrant and trendy lifestyle with 3 lines of villas: Duplex villas, detached villas and boutique houses.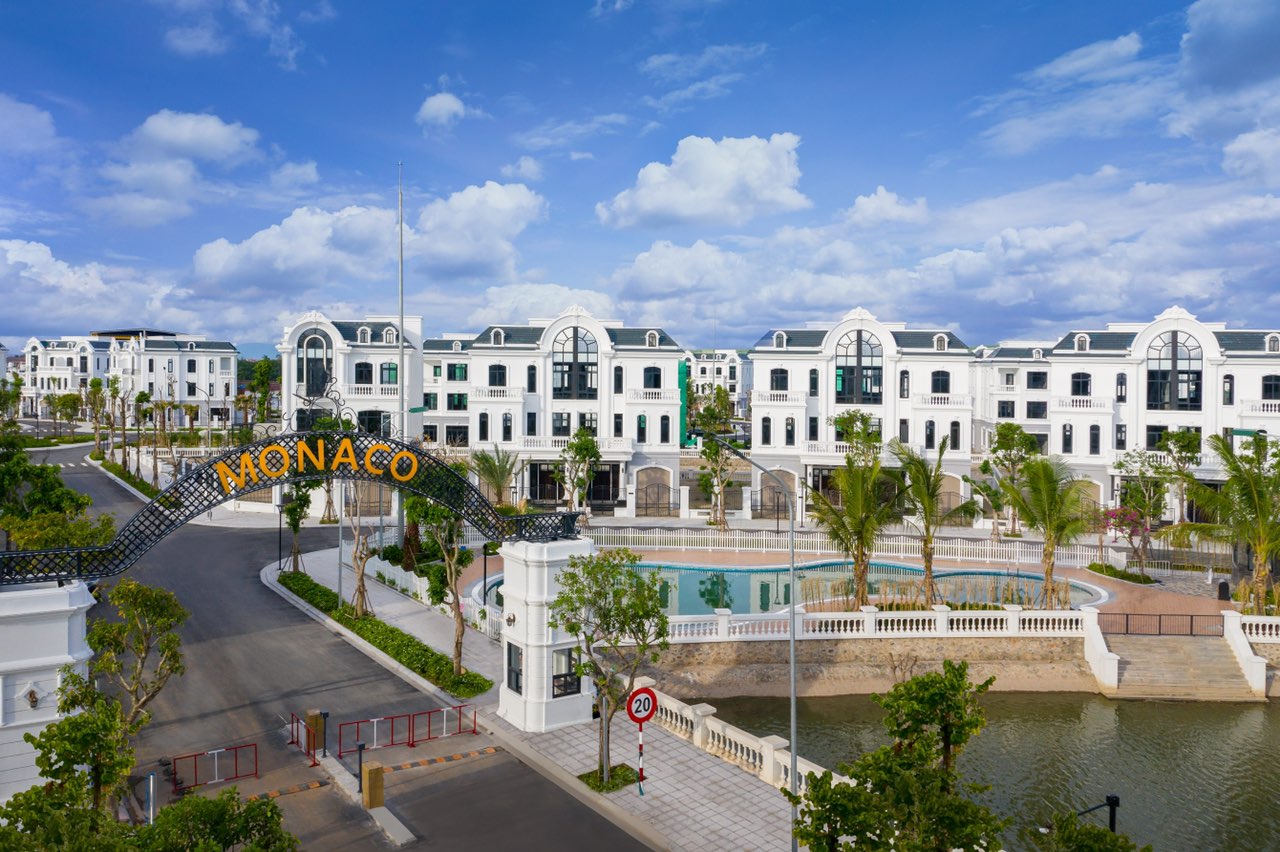 Planned at the confluence of 3 rivers (Cam River, Thuong Ly River and landscaping river) on an area of 3.6 hectares, this zone owns the largest surrounding green space in the urban area, bringing the back-to-nature, private and isolated living experience. According to Vinhomes, there are only 114 limited villas with magnificent and luxurious design originating from The Principality of Monaco.
In terms of residential options, The Monaco provides 3 housing categories namely duplex villas, detached villas and mansions with the most spacious area among all zones of the project, fully satisfying the high living standards of the elite.
World-class superb facility systems of Vinhomes Imperia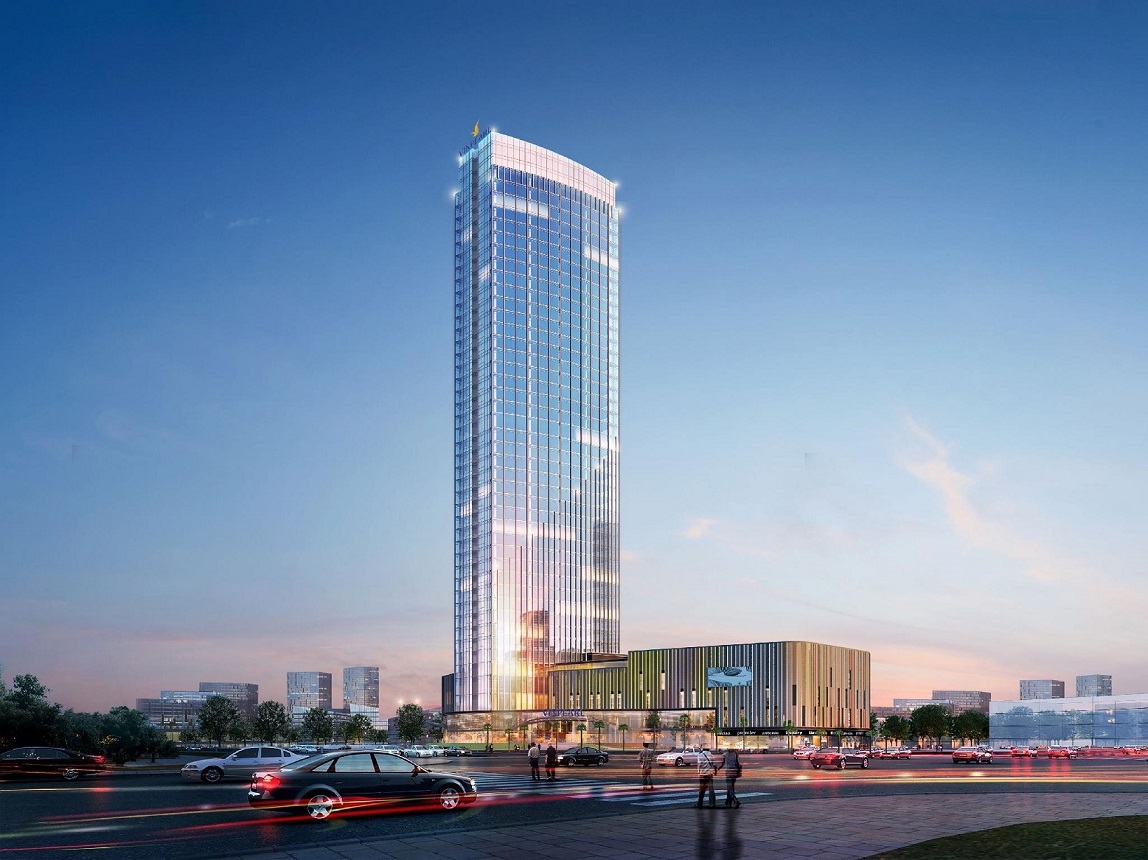 As one of the leading high-end commercial buildings in the city, 45-floor Vinpearl Hotel possesses a unique design demonstrating a flowing river and golden views over the vibrant "City of Flamboyant".

In addition to the 5-star service system and a variety of hotel rooms, Vinpearl Hotel is also home to many high-class restaurants such as Riva Restaurant and Harbor Restaurant, Riva Bistro, Phoenix Lounge or Skybar - where customers can enjoy premium food and drinks.
Vincom Plaza Shopping Center
Located right below Vinpearl Hotel Imperia, Vincom Plaza, covering a total area of ​​over 20,000 square meters, is the convergence of a series of famous brands, offering fantastic shopping and entertainment.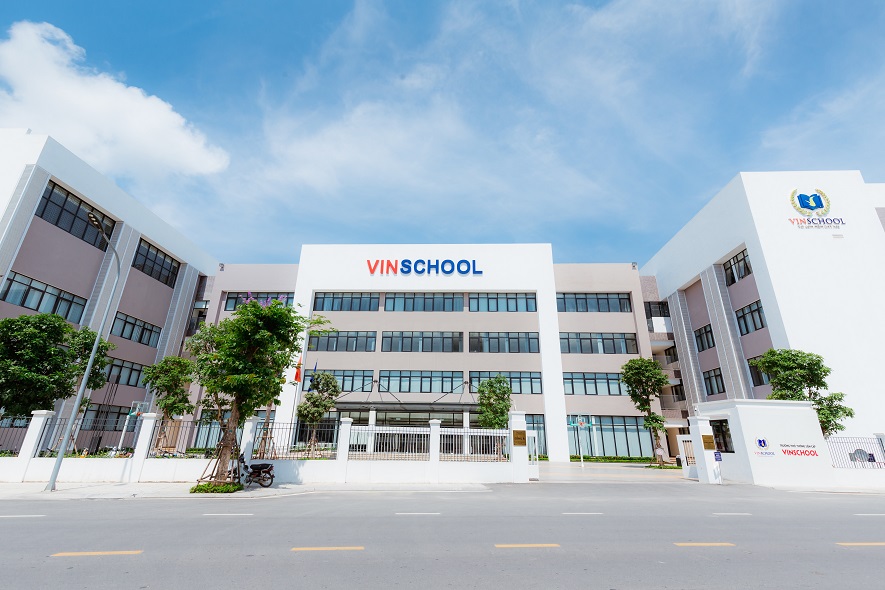 Vinschool Imperia is the first international inter-level Vinschool system in Hai Phong. Following the Vinschool brand's uniform standards, these prestigious schools are equipped with modern and advanced teaching facilities and equipment. Besides, the access to a world-class curriculum that is constantly amended and updated means Vinschool Imperia is perfectly positioned to provide the best education to the City's younger generations and help them fulfill their dreams.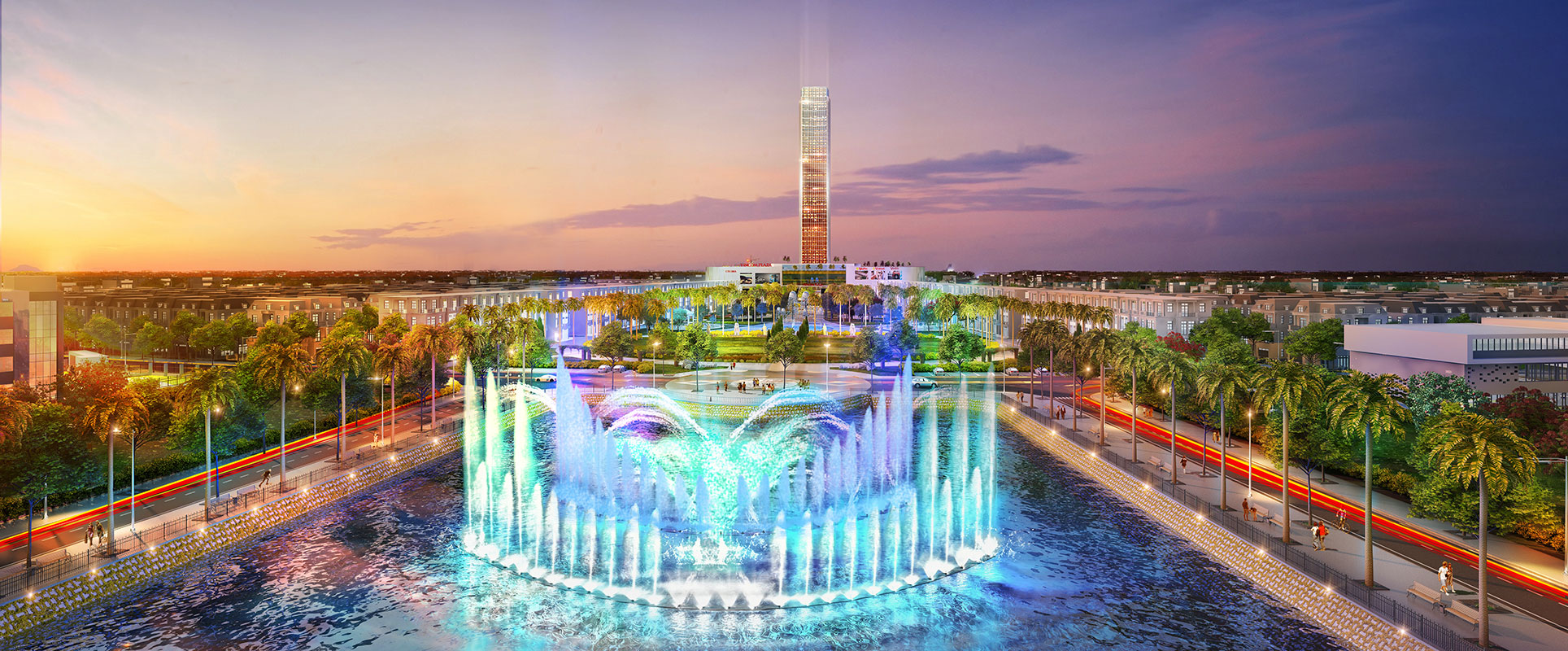 Built in the heart of The Manhattan zone, the light square is truly a unique attraction of Vinhomes Imperia with such highlights as colorful fountains, a spectacular walk of fame, and an endless green lawn spanning up to 6,000 square meters.
This place offers exactly what local families may expect to experience: a spacious gathering spot with a dense greenery system and a series of children's playgrounds as well as an outdoor sports area. It is the center of entertainment, workout, and family and friend bonding for the elite resident community.
Vinhomes Marina enters the list of Vinhomes projects in Hai Phong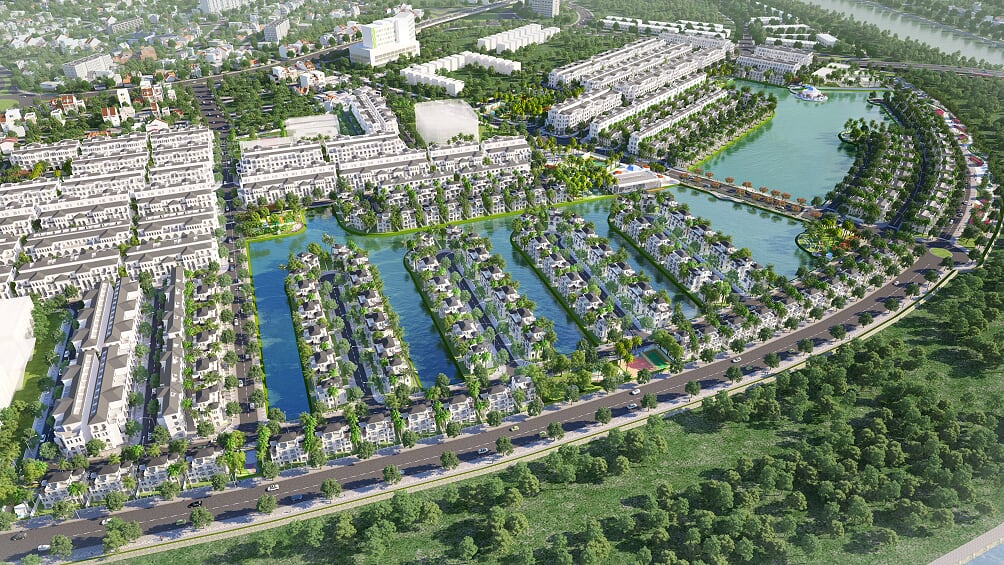 When it comes to Vinhomes projects in Hai Phong, it's a must to mention Vinhomes Marina urban area. With classy and wild colors of Mediterranean architecture and new ideas inspired by the "water" element, residents will experience resort-style living which is worthy of the upper class.
Location of Vinhomes Marina - "golden" coordinates in the Port City
Located in Vinh Yen Ward, Vinhomes Marina is said to hold a solid position as a "tripod", which is a "steel leverage" that maintains the project value over time.
Inheriting a perfect transportation network
As the "new symbol" of Hai Phong, Vinhomes Marina's location deserves 10/10 points when located at the foot of Rao 2 Bridge, closely connecting to the city center through major roads such as Vo Nguyen Giap, Pham Van Dong, etc.
Thanks to the integrated transport system, from the project, it only takes 5 minutes to access the key destinations and education - medical - business centers including Cau Rao 1 Bus Station, Le Chan High School, Vietnam National Institute of Maritime Medicine; 10 minutes to Lach Tray Stadium, City Center Flower Garden, Cat Bi Airport, Hai Phong Railway Station, Hai Phong Port and 15 minutes to the City People's Committee, Opera House, etc.
Besides the perfect regional connectivity, another advantage that Vinhomes Marina has is its proximity to the Hanoi - Hai Phong - Quang Ninh highway. As a result, the distance from the project to Hanoi and Ha Long is significantly shortened.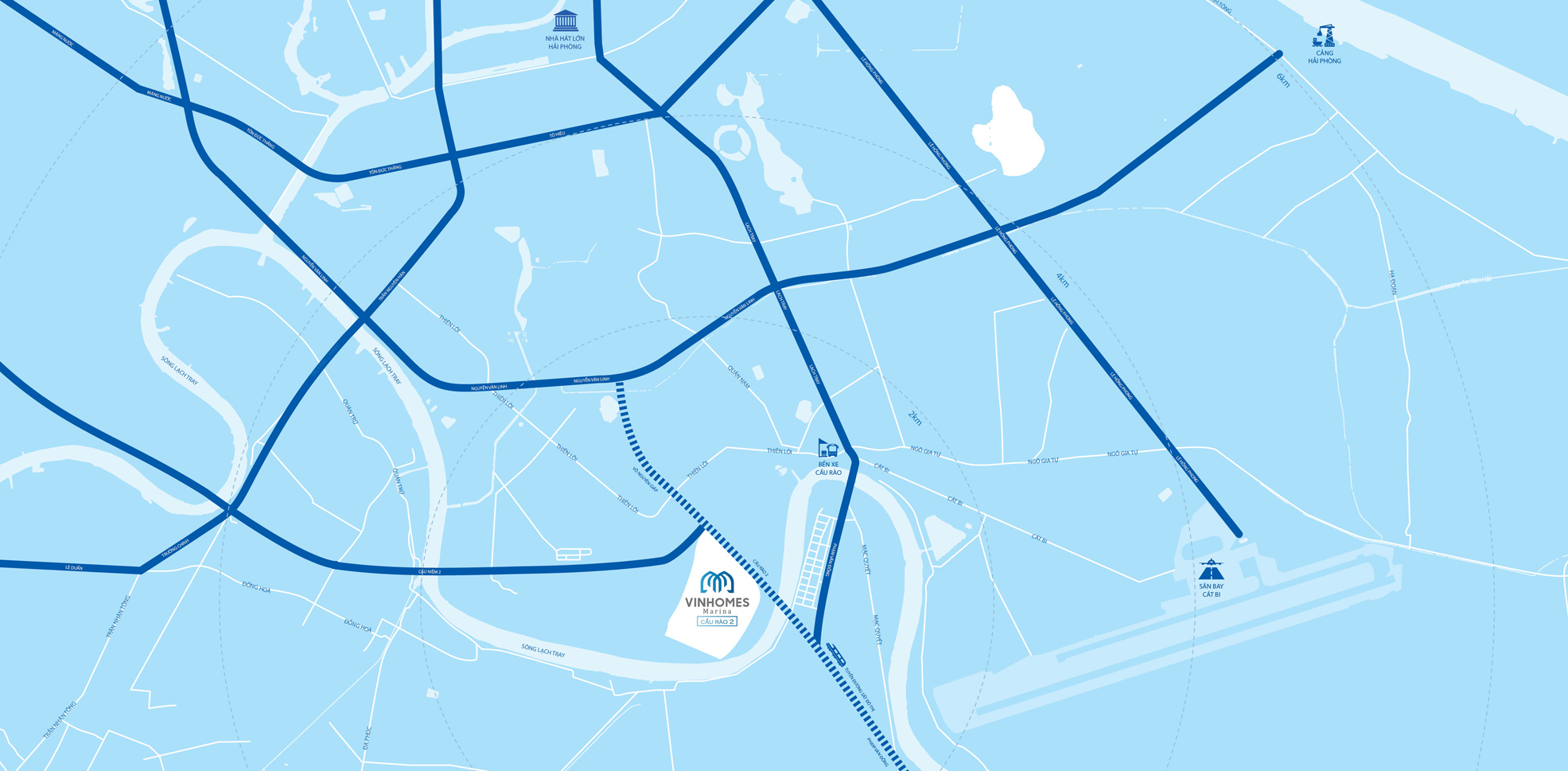 Flourishing riverside location
According to the long-standing Fengshui beliefs, the water source in the south is an auspicious omen, signaling a prosperous and happy life. With one side located along the vast Lach Tray River, the newly launched Vinhomes Marina has been a hot project in the Hai Phong properties market.

In addition to the natural land position, within the project area, the developer built an additional 7-hectare air-conditioning lake. These two prosperous water flows blend with each other to create a harmonious source of prosperity and water element, bringing fortune and opulence to each owner.

Regarding the "prosperous" Fengshui of the project, Mr. Ho Viet Hoang, a veteran property investor shared:

"When choosing a land lot, to businessmen like me, studying Fengshui elements is the top priority. Because good Fengshui is not only the foundation for a peaceful life of the owner, but it also ensures liquidity. Therefore, when the construction of Vinhomes Marina was announced, I immediately added it to my investment portfolio."
Plan of Vinhomes Marina
With a novel concept of plan and design, Vinhomes Marina is Vinhomes' first Mediterranean-style urban complex. Vinhomes Marina Cau Rao 2 has a total area of over 49 hectares and 1,153 products including real estate categories: duplex villas, detached villas, semi-detached villas and shophouses.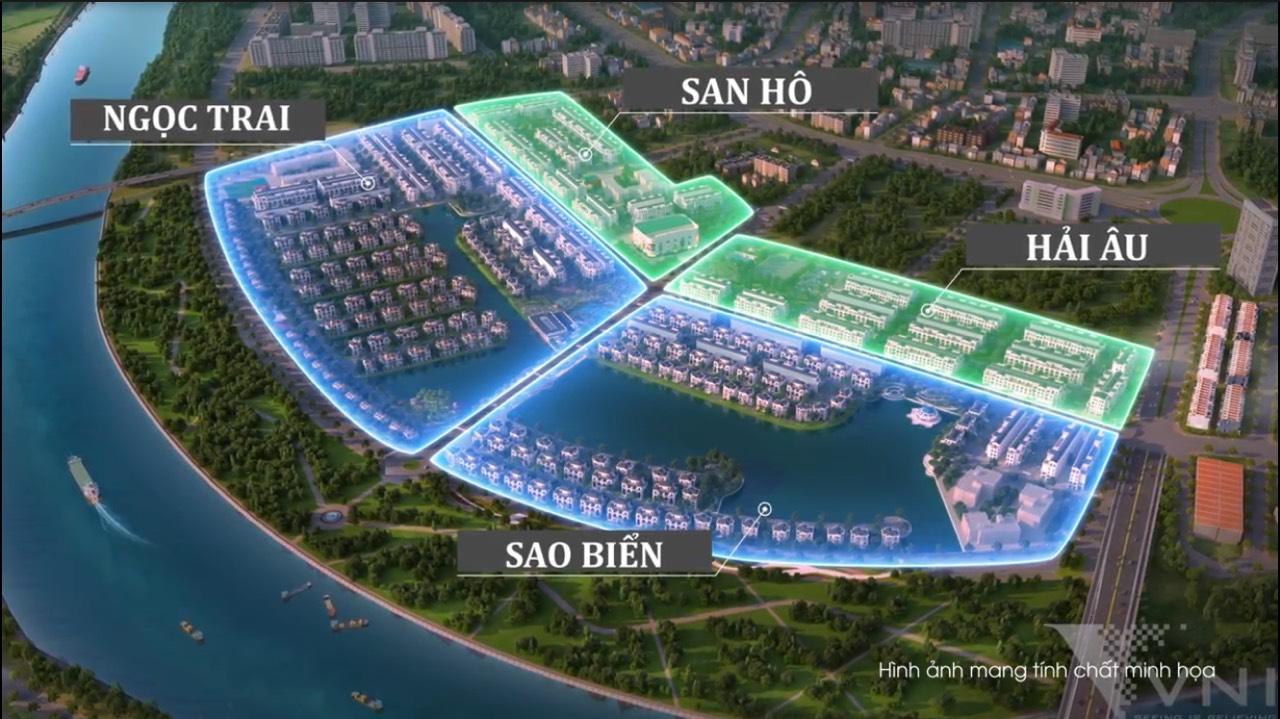 The Vinhomes Marina project is divided into 4 low-rise subzones including Ngoc Trai, San Ho, Hai Au, and Sao Bien. The detailed planning information in each subzone is as follows:
Ngoc Trai subzone is planned along Lach Tray River with the compound model. This subzone contains all 3 categories: duplex, detached and semi-detached villas.

With the architectural style from beautiful Italy reflected in the delicately interwoven arched doorways, blending with the surrounding ecological river system, Ngoc Trai subzone is compared to "little Venice" right in the middle of the bustling City of Flamboyant.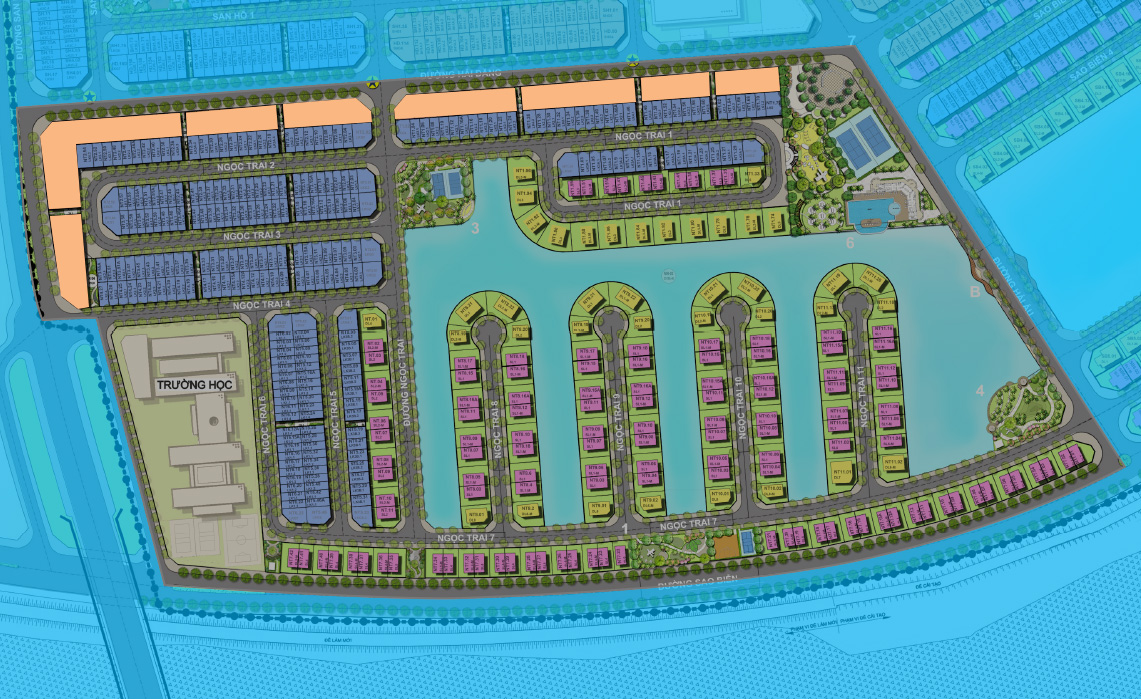 Sao Bien subzone is adjacent to Rao Bridge 2 and Lach Trach River and is the second compound subzone of the project. In this subzone, villas are the main category of development, accounting for about 80%, the rest is shophouses.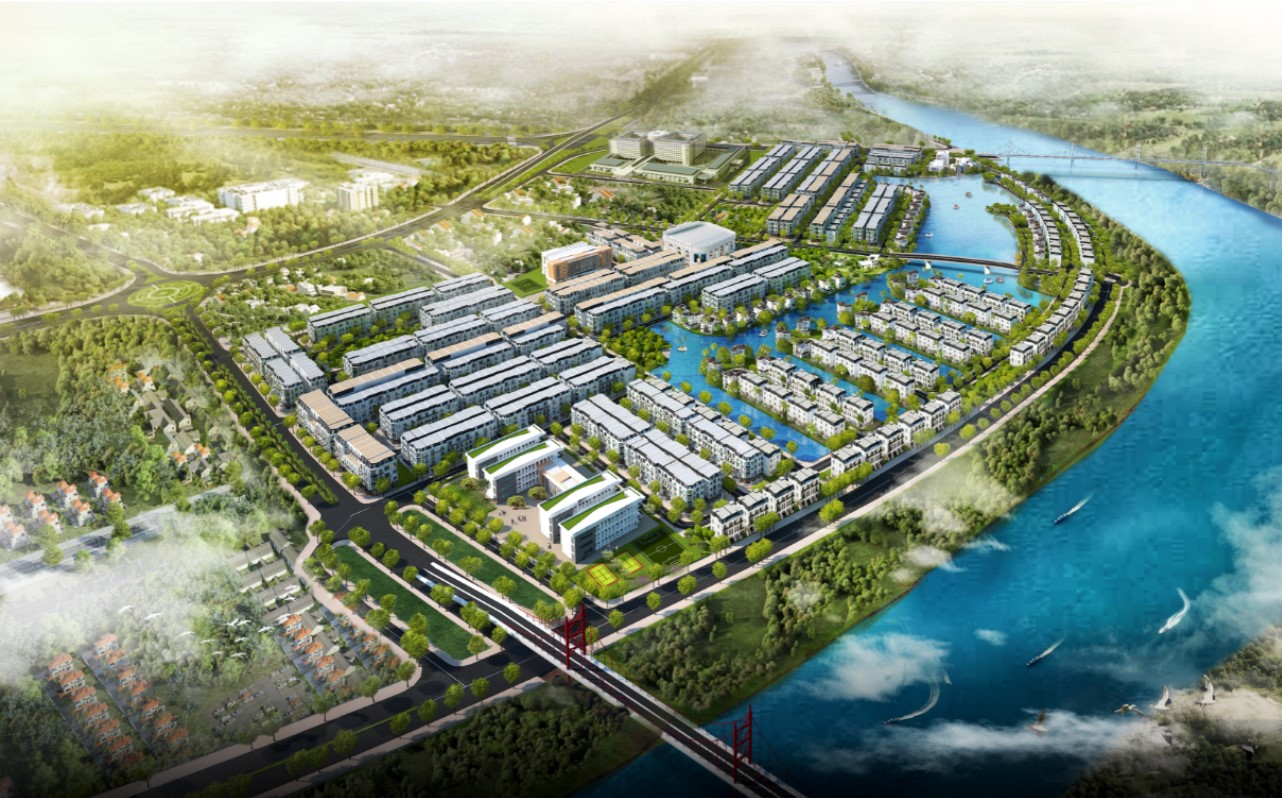 All of the above property products have their own Greek architectural design, surrounded by a 7.2-hectare air-conditioning lake and Lach Tray River, forming a one-of-a-kind ecological environment in the heart of the busy Port City. It is the factor that turns Sao Bien subzone into a symbol of luxury and high society.
Located next to Vo Nguyen Giap Street (near the Vo Nguyen Giap - Bui Vien intersection), Hai Au subzone does not contain duplex or detached villas and is one of two public subzones, targeting high-end customers who are fond of an exciting life.
San Ho subzone is located near Bui Vien Street, is the second public subzone in Hai Phong Vinhomes projects. Similar to the Hai Au, San Ho subzone only consists of semi-detached and shophouse categories with the poetic southern Italian architecture characterized by low eaves, large arched windows, perfectly expressing the freedom and elegance of Mediterranean coastal homes.

One of the attractions in San Ho subzone is the bustling and classy The Premium Collection shopping and service area, which is ideal for residents who love a vibrant and modern life.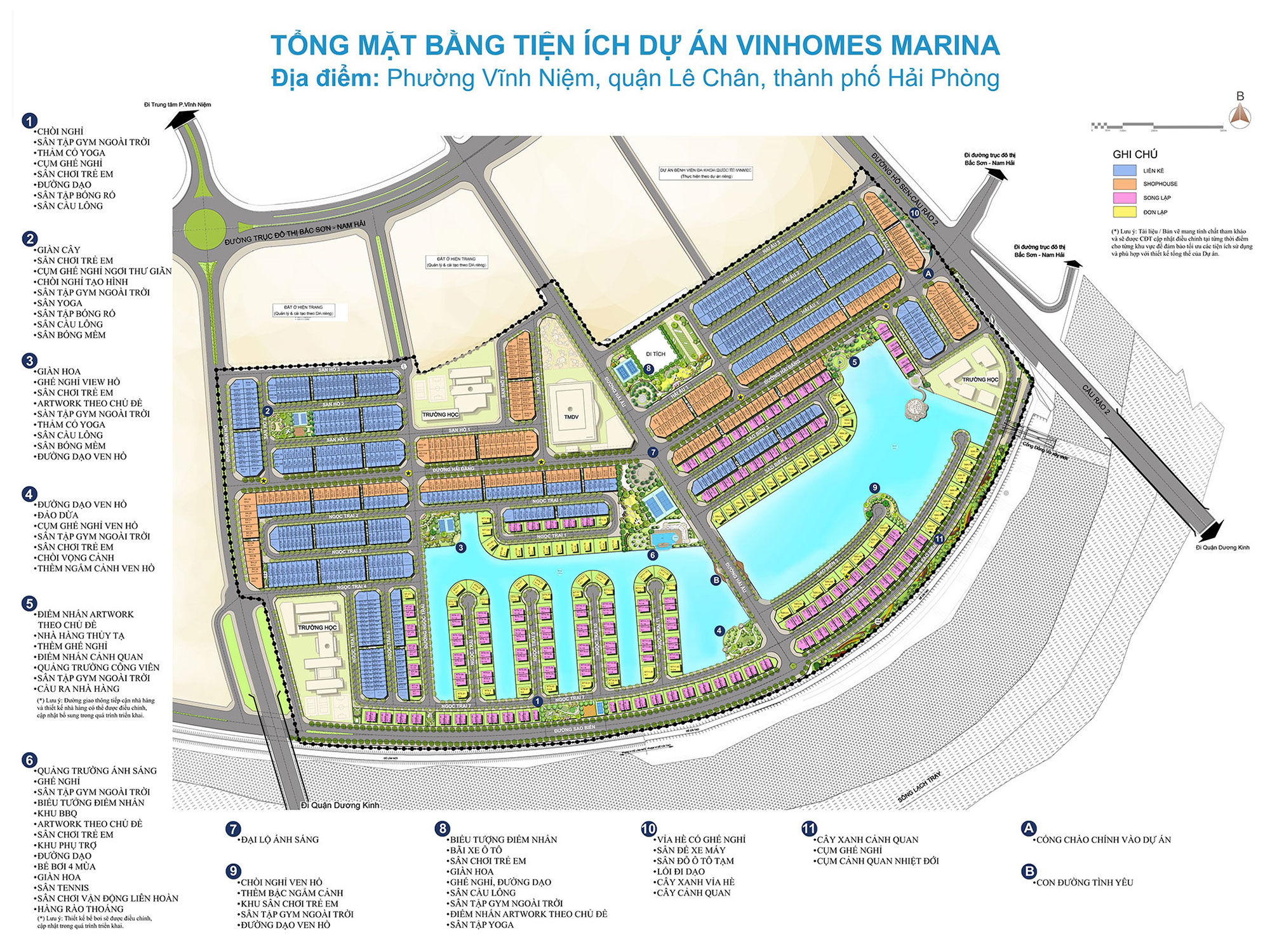 Best accommodations with Vinhomes Marina facility ecosystem
In the context of developing society, many believe that the housing concept is beyond a good location or beautiful architecture. Today, the successful residential community also requires a fancy and comfortable living experience, along with privileges to assert a different stature. Once again, Vinhomes Marina can comprehensively cover these high standards with myriads of supreme facilities:
7.2-Hectare air-conditioning lake - creating pure and green space
Located at the heart of the urban area, the 7.2-hectare air-conditioning lake is the focal point of the landscape, creating a characteristic ecological space for Vinhomes Marina. Vingroup has developed unique facilities such as light avenue, tree-filled walking routes or Santorini-style Thuy Ta restaurant, etc., which brings the first-class entertainment space for all residents.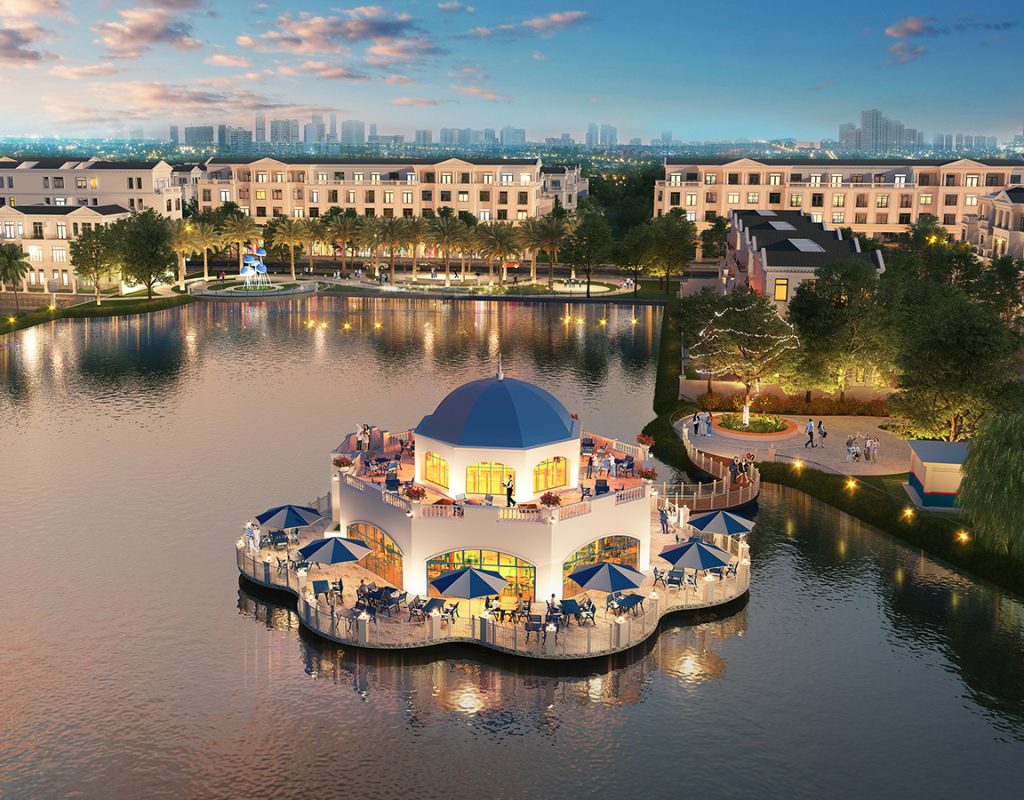 The Premium Collection shopping and service area
As the most vibrant business hub in the urban area, The Premium Collection is a complex of top-level commercial and service shops, promisingly bringing the best shopping experience.
Vinmec International General Hospital - excellent service from Vingroup
Located at No.124 Nguyen Duc Canh - Le Chan, Vinmec International General Hospital is the first hospital with the model of a 23-floor premium hospital-hotel in Hai Phong and the Northern coastal region. In addition, with a scale of about 500 inpatient beds and a synchronous outpatient medical examination and treatment system, with all departments, and advanced equipment system, luxurious facilities and impeccable service quality.
Therefore, residents at Vinhomes Marina and Vinhomes Imperia can enjoy the full set of "Diamond four" from Vingroup: Vinhomes - Vinmec - Vincom - Vinschool.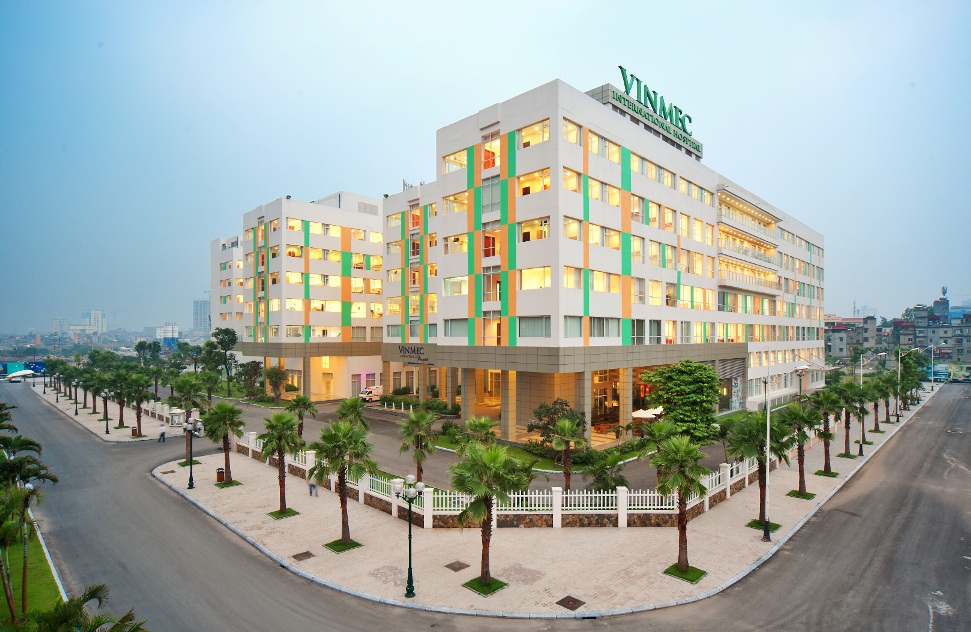 Conclusion
With superior architecture, location and living space, Vinhomes projects in Hai Phong have contributed to forming a new living standard for the upper class there, at the same time marking the great success of the developer on the local real estate market.